Rob Da Noize Temple:  September 12, 1953 - April 21, 2020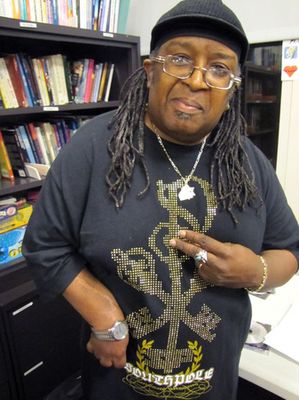 Rob Da' Noize Temple grew up in Brooklyn, New York, where he began playing keyboards at the age of 6 and formed his first  and at the age of 13.  His "Solid Noize Music" is an ASCAP publisher with a music publishing catalog of over 7,000    compositions.  The compositions range in styles from hip hop to esoteric spiritual overtures.
Early in his career, Rob formed the group Conway & Temple, who were the first artists signed to Jive Records.  Their 1982 classic hit on Jive/Old Town Records, "Love Lights/ You Can Lay Your Head On My Shoulder," earned a place in Ralph Tee's book Who's Who in Soul Music and was featured on Soul Train UK. 
He produced and arranged tracks for several labels including MCA/Universal, Motown, Strictly Rhythm, Freeze, Quark, Jive, Warlock, Permanent, Jazzy, and e/Legal, Kaleidoscope, King Street, Holland Group, Lawton, Phuture Sole, Slaag and Street Law Records. Rob scored #1 with The Mozie B Project's international dance hit, "Free." In addition in 1999 his "Vibe of Love" was on Billboard Magazine's "Hot Rhythm and Blues (R&B) Singles & Tracks" chart and the "Hot R&B Sales and Airplay" chart for 9 weeks. 
Rob's keyboard and drum production are featured on the dance remix of Universal/MCA recording artist Shai's hit single, "This Is the Place Where You Belong," from the Beverly Hills Cop III soundtrack.  Temple teamed up with dance music icons, 280 West, featuring Diamond Temple for their # 1 international hit "Fly."  Rob toured as keyboardist and DJ for Rapper's Delight featuring Wonder Mike & Master Gee formerly of the group The Sugar Hill Gang.  He had just completed the music soundtrack for their new documentary "I Want My Name Back".
Rob co-founded Krip-Hop Nation, an acronym for disabled musicians from around the world.  He was the featured artist on Krip-Hop's recently released CD's, "Krip Hop, Vol. I and Vol. II."   
He was also a graphic artist in the early 70's who worked for horological clock art designs, Brett of London and the original designer of the "Freiijon" gold love medallions sold exclusively by Playboy Magazine. 
Rest in Peace.